CCA Introduces New Logo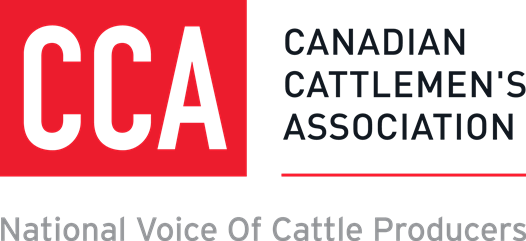 Calgary, AB – The Canadian Cattlemen's Association (CCA) is pleased to introduce its new logo. The new logo better reflects the high level work that the association does on behalf of the producers who operate Canada's 68,500 beef farms and feedlots. The logo is the latest part of a rebranding process that began with the launch of the new CCA website in the fall of 2013.
In keeping with tradition, there are two versions of the CCA logo. The full version features the CCA acronym and association name along with the tagline, 'National Voice of Cattle Producers.' The second logo is a stand-alone CCA acronym in the same font with the tagline 'Since 1932.' This tagline acknowledges the proud history of the organization, whose roots can be traced back to 1932. In 1967, the supplementary letters patent were filed changing the name to the Canadian Cattlemen's Association. The red colour of the logo is another familiar touch that links past to present. The new logo is now on the CCA website at www.cattle.ca and on Twitter @cdncattlemen.
The new logo was approved by the CCA Board of Directors at the 2014 annual general meeting. CCA Communications Manager Gina Teel thanked the board for their support and feedback on this project and the rebranding efforts to date.
"The CCA does a lot of excellent work and we finally have a logo that reflects that," she said. "The new logo captures perfectly the professionalism and expertise that leads all of the work that we do. The logo builds on the rebranding of the new website and absolutely reinforces the CCA as the voice of Canada's beef cattle producers."
Teel also thanks Icona Inc. for their work on the CCA logos.